Puppy & Kitten Care Packages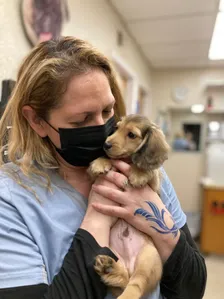 Tierrasanta Veterinary Hospital offers puppy and kitten care packages that contain a 20 percent discount on vaccinations, deworming, microchipping, and early testing and screening up until the age of four months.
Bringing home a new puppy or kitten is always so exciting but it's very important to remember to start out right with a trip to your Tierrasanta vet to get them ready for the big world around them. Your local veterinarian's office can provide your new family member with a care package that takes care of its immediate medical needs while safeguarding it from future threats.
These care packages can include discounts on certain services that will aid in maintaining good health. These services can include vaccinations, microchipping, deworming, and early testing or screening to catch any existing conditions before they threaten the life or health of your pet.
Vaccinations for Puppies and Kittens
If you need puppy vaccines or vaccines for kittens or puppy or kitten dewormer, contact a licensed veterinarian in San Diego as soon as possible. Veterinarians provide vaccinations to protect your fur baby from life-threatening diseases and dewormer to keep them safe from harmful parasites. In addition, when you take your pet to a veterinarian, a medical history is created helps to screen for or catch certain conditions. Early detection reduces the amount of time a pet has to suffer before receiving proper care.
Microchipping Can Save Your Friend's Life
Microchipping is the process of inserting a small tracking device just below the surface of the skin on your pet. The process, if done by a licensed vet, is quick, sanitary, and relatively painless. Microchipping ensures your lost pet finds its way back to you, instead of being euthanized in an animal control facility after being picked up as a stray. Microchips provide animal control and vets with your contact information for an easy, panic-free return to your home.
If you are looking for a veterinarian in the San Diego area, visit the Tierrasanta Veterinary Hospital. We are a full-service veterinary facility, equipped with trained, licensed staff that can provide for your new addition's medical needs. With us, your pet is family and our facility is its home-away-from-home.
Visit our facility at 10799 Tierrasanta Blvd in San Diego, California, 92124 to meet our vet, ask questions or tour the facility. You may also call us at (858) 292-6116 to ask questions or to set an appointment. If you would like more information, please visit us online where you can meet the team or find a full list of our services and hours of operation. You can also find out what our other clients have to say about us. Come in or call today to safeguard your pet.