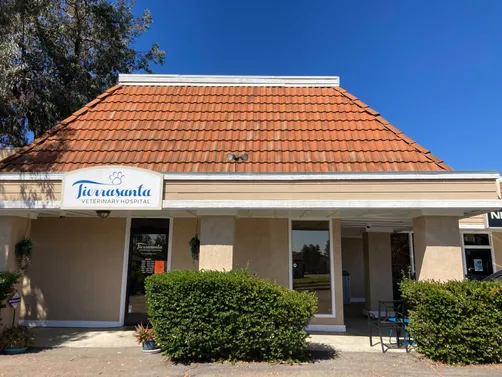 Tierrasanta Veterinary Hospital - Caring San Diego Veterinarian
At Tierrasanta Veterinary Hospital, you neighborhood veterinarian in San Diego and the surrounding areas, you are entrusting your pet to the highest level of professionals who are proud to be of service to the community. Our primary focus is on the comfort, safety and health of your pet, but we also feel a great responsibility to all of our pet owners. We know that having a pet is like welcoming a precious new member into the family. As passionate pet owners ourselves, we strive to give our pet owners all the support and knowledge they need to help their pets have the longest and healthiest life possible.
Our Staff
Our Tierrasanta vet, Dr. Michelle Schexneider, has a vast amount of experience providing veterinary care. She is supported by a staff of enthusiastic pet owners and lovers who love being able to work with beloved furry friends on a daily basis. Our core philosophy relies on a "fear free initiative," which basically translates into an approach that seeks to make your pets feel as comfortable and as safe as possible when they are in our care. When your pets come through our doors, it is always a priority to treat them as if they were our own
Services We Provide
Pet Wellness: pet care packages, general wellness, ear Infections, etc.
Vaccinations: including distemper, hepatitis, parvovirus, leptospirosis, bordetella, and rabies. We also offer Lyme and canine influenza prevention as well as rattlesnake vaccines for those dogs who have an active outdoor lifestyle.
Heartworm prevention, flea & tick prevention
In-house Diagnostics
Pet Boarding: dogs, cats, small pets
Pet Dental: dental x-rays, periodontal disease
Pet Day Care
Small Pet Care
Nutritional Guidance & Prescription Pet Food
Microchipping
Pet Travel Certificates
Rattlesnake antivenom
New Patients
If you've been putting off a wellness visit, now is the time to schedule an appointment for your pet to come in and see us. Simply navigate below and complete the Client Information form. Before your scheduled visit. This will help save you time when you get to our office and we'll be able to get you and your pet in to see our vet as quickly as possible.
We look forward to meeting you and your precious companion. Call today!