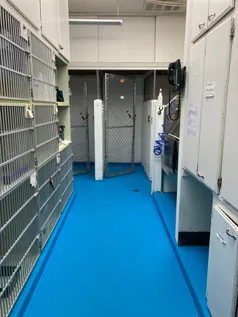 Your pet is not only your best friend, he's a part of your family. If there comes a time you have to travel and can't take your pet along, you'll want to put him in a safe, comfortable place. At Tierransanta Veterinary Hospital, we offer safe and secure pet boarding services for your beloved pet. You can rest assured that your pet will be safe, comfortable, and happy in our care. If you live in Tierransanta or San Diego, we invite you to board your pet with us.
What to Expect When Boarding Your Pet
Your pet will be looked after by trained animal caregivers who have a genuine love for pets. Our facilities are safe, clean, and spacious to ensure your pet has a comfortable stay. To ensure your pet continues their regular diet, please bring the food they are currently eating. If they takes medications, make sure you bring these meds along so we can continue this care.
If your pet has special needs or requires medications, Tierrasanta Veterinary Hospital is the perfect place for them to be boarded, as they will have access to a professional veterinarian for quality veterinary care.
Species We Offer Boarding for
Here at Tierrasanta Vet Hospital we not only board dogs and cats but exotic animals as well. If you are looking to board an exotic type animal, please call us for further information.
Safety First
Safety is of utmost importance at our hospital to protect the health and welfare of pets in our care. If you have safety concerns, you can rest assured your pet is in good hands. All pet boarders are required to have up to date vaccinations to prevent the spread of contagious diseases.
Bring Your Pet to Tierrasanta Veterinary Hospital for Pet Boarding
If you live in Tierrasanta or San Diego and are considering boarding your pet, call Teirrasanta Veterinary Hospital at (858) 292-6116 to reserve your pets stay. Come tour our facilities, meet our team, and learn more about our pet boarding services and care.